Meet Dr. Ng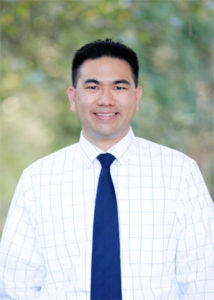 Dr. Ng has been providing families along the Central Coast with quality dental care since 2008. A Southern California native, he was a Regents Scholar at the University of California, Riverside where he graduated with honors. He then attended Loma Linda University School of Dentistry where he received his DDS and has since dedicated his professional career to providing his patients with the best that dentistry has to offer.
Dr. Ng is a member of many professional organizations, including: the American Dental Association, California Dental Association, Central Coast Dental Society as well as many local organizations. He has a passion for dental education as he is the Continuing Education Director for the Central Coast Dental Society, is a member of the SLO Chapter of the Spear Study Club.
Our practice supports many local schools including: Templeton High School, Morro Bay High School, Los Osos Middle School, Laguna Middle School, CJ Smith Elementary, SLO Christian Schools, and Valley View Adventist Academy, to name a few. Additionally, Dr. Ng is very active with the Southern California branch of Easter Seals, and often travels overseas to provide dental care to underserved areas. He's taken trips to the Philippines, Chad, Belize, Honduras, Peru, and El Salvador. His hobbies include playing volleyball, hiking, finding nice, twisty roads to carve, or nice bumpy ones to traverse.
The continual support, education, as well as state-of-the-art equipment all ensure your experience, at the Dr. Ng Family Dentistry San Luis Obispo office, will leave you with a beautiful, bright, clean and healthy smile. If you are new to the area, or are looking for a new dental home in SLO, we would welcome to the opportunity to have your family become a part of ours.
DOUGLAS NG, D.D.S.
Dentist San Luis Obispo
862 Meinecke Ave #203
San Luis Obispo, CA 93405
(805) 544-1246
Call today to set up an appointment!